Nature's fireworks
There is a magic time of year here - a sweet spot at the end of June when thousands of flickering fireflies light up our yard. We have no street lights and our home is surrounded by dark woods on three sides. The lack of manmade light enhances that of the fireflies into something extraordinary and for several nights at the end of June, our yard is transformed into a light show unparalleled in beauty.
There is no way to describe it in a way that does it justice. Everywhere you look - up, down, left, right - your eyes are dazzled by hundreds of pops of bioluminescence that rival even the most elegant of Christmas displays. Last night in a fit of insomnia, I sat in the chair by my bedroom window and watched, transfixed, marveling the beauty before me.
This is the seventh year that I've lived here. The seventh year that I've seen this incredible spectacle and I've come to anticipate it, eagerly counting down the days starting in early spring when the show returns. This year, I was especially anxious to share it with the girls.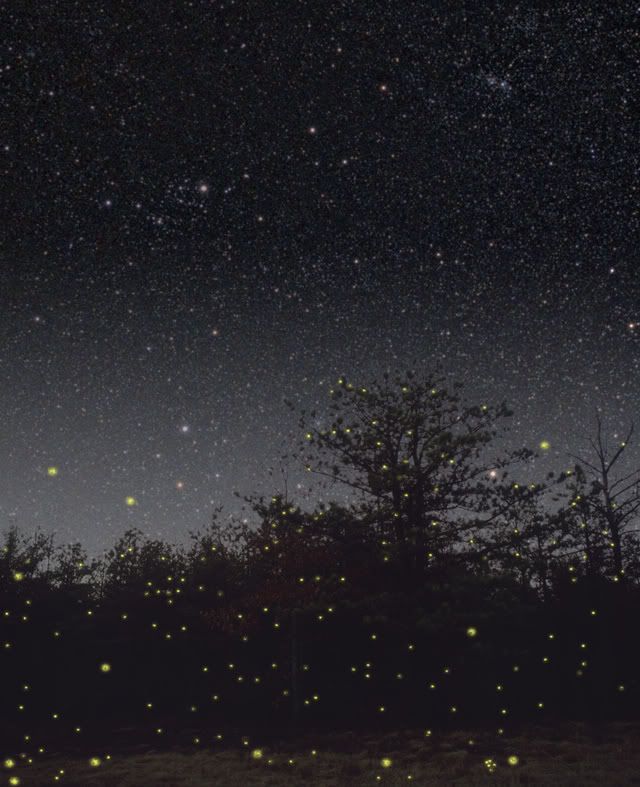 The fireflies are just about at their peak this week. Soon, they'll be gone, so tonight before bed, I took both girls by the hand and lead them out into the inky night. They are afraid of the dark and were skeptical, but I gently insisted. They gripped my hand tightly as we crossed the threshold, but within seconds all was forgotten.
Even in the dark I could see the wonder in their eyes. I could hear the awe in their voices as they oohed and aahed. They squeezed my hands tighter, not of fear but in fits of excited joy. They squealed and laughed and hopped with glee. We walked carefully through the yard. At one point, Peanut even forgot her fear and let go of my hand, chasing a nearby firefly through the grass.
They did not want to come in. They were hooked, mesmerized, fascinated, spellbound. "Five more minutes?" they begged.
When we got inside, they both wanted to leave their blinds open so they could stare out the window for a bit longer. How could I, the woman who sat in her own window gazing at the firefly dance just last night, refuse?
I'm not sure if we'll be in this house next summer. We constantly question if it's the right one for us, and there is always a chance that we'll move at some point. I only hope that where ever we end up, we can enjoy the same spectacle. If not, I won't be the only disappointed member of this household.
(Edit: I can't take credit for the picture. I've tried many times to photograph the fireflies in my yard, but clearly don't have the right photographic equipment or skills. This photo was taken by
rougewriter3
and posted on Photobucket. There are others - go check them out!)
Labels: House Sweet House, It's all worth it